KM Yachtbuilders are dedicated to the construction of aluminium full custom built sailing yachts of any design up to 100ft, exactly according to their owner's requirements.
They have a portfolio of yacht brands – the Bestevaer, Bestewind, Stadtship and Axonite – to guide the potential owner but are willing and able to adapt those brands, working with a number of well-known naval architects, to deliver the boat the client desires. And should you want something never built before, don't hesitate to show us your plans.
They build both classic and modern sailing yachts to a very high quality and take great care in consistently adhering to their customers' wishes, so that the styles of the exterior and the interior are harmonically integrated. Whilst their yachts are classic on first glance and many have a pilot house, their styling belies their sailing abilities. Not only are they elegant, they are fleet of foot too.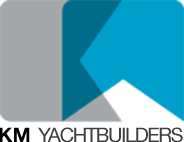 In 1999, KM Yachtbuilders acquired a yard with 30 years experience of building aluminum yachts. This valuable experience combined with the fresh air that Eeuwe Kooi, the new owner, brought with him, has made KM Yachtbuilders a young and innovative business.
Built in conjunction with Dykstra & Partners Naval Architects, varying in length from 45 to 100 feet. They either have a spoon bow (S), clipper bow (C) or straight bow (ST). In recent years the majority of Bestevaers have been ST models – elegant performance yachts – fast and comfortable with a trademark pilot house. KMY were proud to build Gerard Dijkstra's own Bestevaer 53 ST, a great accolade given his achievements in racing yachts. Bestevaers are all aluminium in construction and available in fixed or variable keel configurations.
Best what?
Bestevaer was a nickname given to Michiel Adriaanszoon De Ruyter, an important 17th century Dutch admiral. The crew loved their captain and called him 'Beste Vaeder' (best father), which was then shortened to Bestevaer. The word Vaer also means sailor, seafarer. Thus, De Ruyter was not only the best father, but also the best seafarer. Bestevaer is a very fitting name.
Ready to start your adventure?