100% Aluminium Lifting Keel.
Established in 1973, Alubat have built over 1500 aluminium yachts, designed for long voyages and world renowned as bluewater cruising yachts, not forgetting their coastal creek crawling abilities!
Whether it's a lifting keel OVNI, a performance orientated Cigale or an Ovnicat each can be adapted to your requirements.
Although they are production yachts they can be tailored to fit your current and future plans and no two are ever exactly the same. The emphasis is functionality and practicality, keeping you safe and comfortable crossing oceans and on your mooring. Honest boats to help you fulfil your dreams.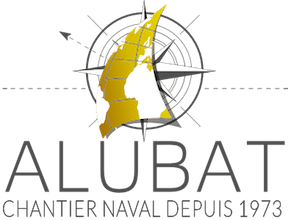 The originality of Alubat's strategy has been in the use of aluminium for bespoke production yachts and hence the ability to charge highly competitive prices for this type of yacht.
North Sea Maritime are Alubat's representatives in the UK and have been since 2002.  In those 20+ years we seen a real evolution in design but still aluminium and still lifting keel for the Ovnis and now a possibility for the Cigales too.  In the past clients have contracted with North Sea Maritime for the construction of their boat but that system has now changed and clients sign the contract directly with Alubat.  But that's the only change in the system.  We're still here to help, advise and guide you.
It can be a slightly bewildering choice working out which options will suit your plans and of course there will be some things we've perhaps done before that aren't on any standard pricelists.  Leverage off our experience – we've been 'godparents' to almost a 100 new boats, this may be the only one you've had built to order.  That's our job from the plan to the delivery.
Ready to start your adventure?