A successful show, attended by 250,000 visitors. The AMEL stand was, as predicted, inundated with visitors discovering or revisiting the AMEL 50 and finding out about the new AMEL 60.
Alubat's stand was equally busy – a new Ovni, the 450, with the much requested hardtop was on display and visitors were able to find out about the Ovni 400 which will be launched later this year.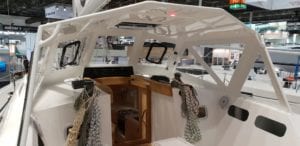 If you missed the show and want some photographs, take a look at our galleries relevant to the model as these have been updated.  More information available on request.